Beyond Google Analytics: Why real-time data is essential for publishers
Google's decision to sunset Universal Analytics in 2023 means that their users will either need to migrate to Google Analytics 4 or seek an alternative for real-time analytics. As a result of this transition and Google's decision not to fix real-time reporting within Universal Analytics in the meantime, many publishers have already lost the ability to accurately monitor content and are scrambling to regain real-time visibility.
Real-time analytics are essential for publishers because they make it easy to understand how your audience is connecting with your content at any given moment, so that you can monitor trends and take rapid action to optimize content performance. Media teams without real-time analytics often struggle to find alignment on content decisions — what to change, when to do it, and above all, why. It's here that real-time analytics bridge the gap between editorial instinct and data-driven insight to enable teams to take effective and informed action.
At Chartbeat, our unique set of real-time tools allows publishers to monitor and analyze the same metrics as Google's real-time analytics without any unnecessary data or complexity. From second-by-second real-time tracking to unique reader behavior metrics and automated insights calling out under- or over-performing articles, Chartbeat illuminates readers in rich detail, and at even greater speed.
Our real-time analytics software is so user-friendly and effective that it's trusted by enterprise media brands in more than 70 countries, including The New York Times, Netflix, The Washington Post, Al Jazeera, and more. Here are a few of the ways leading publishers use real-time data from Chartbeat to foster loyal readership. 
Stand out in a highly competitive online content market
When UOL needed to analyze audience engagement in real time in order to quickly optimize content, improve distribution strategies, and stand out in a highly competitive online news market, they decided to use Chartbeat. According to a member of the Audience Engagement Team, "Being able to filter data by [these categories] in real time allows us to segment and understand our audience in ways we never could before."
Chartbeat's Real-Time Dashboard provides live, site-wide data, including traffic sources, geographic location, reader device, referrers, visitor frequency, and more. It also helps you understand how your audience is connecting with your content across platforms, channels, and devices, allowing you to optimize for visitor engagement when it's most impactful for your site.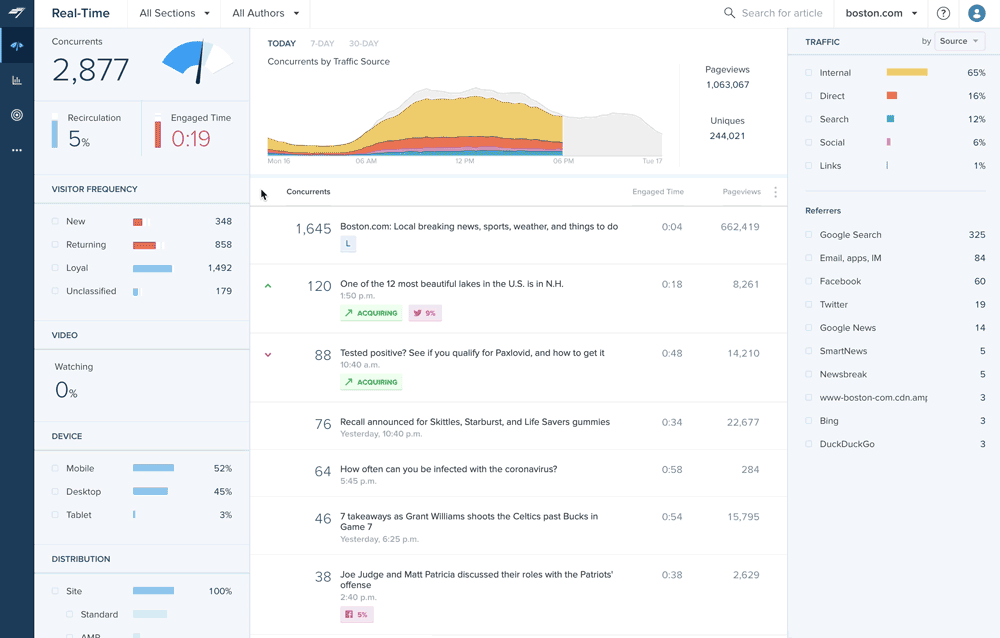 To go deeper, you can filter your real-time traffic data by sections, authors, location, referrer and more. You can investigate how new readers engage differently than loyal readers, or how anonymous users behave differently than subscribers. You can even monitor traffic across multiple platforms by integrating Chartbeat for your Accelerated Mobile Pages, Instant Articles, and native apps.
Most importantly, Chartbeat updates all of these metrics every few seconds so that action can be taken at the first sign of opportunity. Google Analytics 4, on the other hand, only shows activity for the last 30 minutes, leaving publishers guessing for far too long.
Optimize pages while readers are on your site, not after they're gone
Chartbeat not only equips your team with real-time data, it also comes with powerful optimization tools like the Heads Up Display and Headline and Image Testing to make that data actionable.
Heads Up Display
The Heads Up Display lets you access key data while you are browsing your home, article, and landing pages — without having to navigate away to the dashboard. It allows you to make fast real-time decisions because it shows your top-performing stories, finds your hidden high-potential opportunities, and makes it easy to review the performance of a link to see where exactly your audience is active on site.
Headline and Image Testing
Chartbeat's headline and image testing software facilitates live experiments that determine what kinds of headlines and images are most likely to encourage your audience to click into and read your articles. Because these tests optimize for reader engagement after the click, they're helpful tools for adapting your homepage strategy to maximize your content exposure, audience engagement, and visitor loyalty. A Senior Audience Development Manager at a major sports publisher admitted, "Before Chartbeat, I don't think we did any headline testing on the home page. There were larger user testing surveys, but those took 6 months. They were incredibly labor-intensive and sometimes intimidatingly complicated. With this, we get to do littler versions of that and get immediate feedback in real time and in ways we weren't able to before."
Get automated insights about under- or over-performing articles
Chartbeat's notification features like Spike Alerts and insights badges make understanding real-time data simple. Spike Alerts notify you via text, email, and/or Slack when traffic to a page suddenly surges, so you can take action before it goes viral. Insight badges tell you whether an article is acquiring or retaining readers at a higher rate, so you can adjust your distribution channel strategies.
Automated daily reports feature a "Yesterday's insights" section highlighting noteworthy insights on yesterday's visitors, including traffic and referrer trends, high-performing stories, and more. You can use these findings to inform stakeholders from across the organization about trends and user engagement.
Empower your team with easy-to-use analytics and
best-in-class customer support
While many content analytics platforms are complex and require time-consuming training, Chartbeat makes understanding real-time data intuitive and quick. Your staff can start using Chartbeat to inform your content strategies within a matter of days. One publisher found that time-to-productivity for new hires increased by 20% after transitioning to Chartbeat.
The more complicated tools require a ton of training. You're not going to sit someone down with one of these other tools in the first few months on the job — with Chartbeat they are productive in the first few days. Chartbeat is simple and user-friendly.
On top of how easy it is to use our dashboards and tools, our robust support teams and comprehensive documentation provide even more resources for your engineering, data, audience, and editorial teams. No matter where you're based, our world-class technical solutions and customer success teams will be there to provide personalized support throughout our relationship.
Take your content decisions to the next level
For publishers of all sizes, real-time analytics play a crucial role in capturing traffic and engaging readers. By analyzing who's on your site, where they're coming from, and how they're interacting with your content, you'll be able to make data-informed decisions in the moment that supercharge your content strategy.
Chartbeat's real-time analytics not only fill the gap left by Universal Analytics' deprecation of real-time tracking, but also include a digital overlay to monitor and optimize homepages, hundreds of unique reader behavior metrics, automated insights, and superior support and education. You'll restore the power of real-time data and unlock so much more.
---
Start understanding your data in real time – request a free demo today.